Energy embodied, chaos and order united - a race of inherent flexibility, passion, and diversity.
Genasi are an inherent contradiction. Each genasi embodies the potential chaos of air and fire, the order of earth and water, or the ferocity of thunder and lightning. Genasi manifest one of these facets of their elemental soul at all times. Their ubiquitous race is passionate and diverse.
Characters
Edit
Sword Mage - Female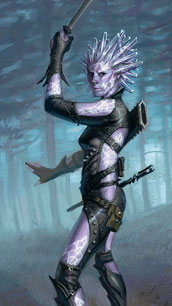 Sword Mage - Male
Ad blocker interference detected!
Wikia is a free-to-use site that makes money from advertising. We have a modified experience for viewers using ad blockers

Wikia is not accessible if you've made further modifications. Remove the custom ad blocker rule(s) and the page will load as expected.